This no-bake eggnog cheesecake is made without using eggs, dairy or any other animal-derived products! Being no-bake makes it super easy to make as well!
Don't forget to browse these 25+ vegan Christmas dessert recipes to get all your baking plans sorted this festive season!
What to expect from this recipe
Eggless and dairy-free
No-bake and easy to make
Minimal, wholesome ingredients (if you don't count the whiskey lol!)
Can be adapted as gluten-free
Perfect for the holidays and Christmas
What's in traditional eggnog?
Traditional eggnog is made from a mixture of egg yolks, sugar, milk, whiskey, or rum and spices such as nutmeg and cinnamon. This concoction is of course not vegan-friendly, but luckily it's super easy to veganize the recipe with plant-based ingredients.
The combination of cashews, coconut milk, and coconut yogurt give this vegan cheesecake the perfect creaminess of standard eggnog recipes. It's sweetened with maple syrup making it a healthier option than refined white sugar.

Ingredients overview
Rolled oats: Oats make a delicious base for the crust. If you're gluten-free, be sure to opt for GF oats in order to make this recipe suitable.
Pecans: The buttery flavor of pecan nuts works perfectly for the base of this festive dessert. The pecans can also be swapped out for other nuts such as walnuts or almonds.
Coconut sugar: I love using coconut sugar to sweeten the base of cakes as an alternative to dates (yes you hear me!). In particular, I find that coconut sugar works well with festive ingredients such as cinnamon as its caramel undertones perfectly enhance those flavors.
Salt: As always, add a pinch of salt to help those flavors come out and sing!
Spices: Ground cinnamon and nutmeg add warmth and festivity to this recipe. You can add more or less of each spice depending on your taste.
Cashew butter: The cashew butter acts as a binding agent for the crust ingredients. Feel free to swap it out for another nut butter, tahini, or coconut oil if you prefer. If using coconut oil, use it in its solid state and add a little at a time as you likely won't need to use the full three tablespoons.
Cashews: The base of the filling, when soaked in advance these nuts become super creamy and their tangy flavor makes them the perfect no-bake cheesecake ingredient.
Coconut cream: Coconut cream or canned coconut milk adds a rich creaminess to the cake as well as helps it to set.
Coconut yogurt: Adding yogurt to the filling gives it a tangy cheesecake flavor. You can opt for any plant-based yogurt of your choice if you can't find coconut yogurt.
Coconut oil: This acts as a setting agent for the cake.
Maple syrup: A natural way of adding sweetness and flavor to the cheesecake base and coconut cream.
Whiskey: You can use whiskey, bourbon, or rum for this recipe. Most of which are vegan-friendly but if in doubt, barnivore.com has a database of alcoholic beverages where you can check which are suitable for vegans.
Vanilla bean paste: This enhances and adds another layer of flavor to your cake. I love using vanilla bean paste as it contains little specs of vanilla. You can swap it out for vanilla extract or the seeds from half a vanilla pod if you have one to hand.
Lemon juice: A tough of fresh lemon juice adds a zing and helps to create that tangy "cheesecake" flavor for this cake.
Orange extract: This is optional, but I did try this cake without it and I found that the orange flavor really helps to bring out the flavor of this cake, without giving it an "orange" taste.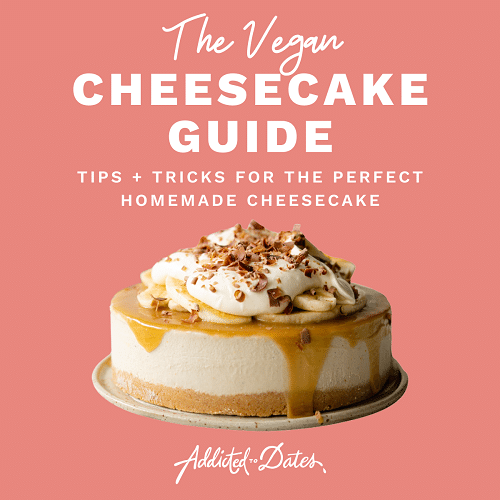 Let's make vegan eggnog cheesecake
Step 1: Make the crust
Making this crust is easy as pie. First, you'll want to prep your cake tin by lining the bottom with some parchment paper. This will make it much easier to remove the cake from the tin once it's set later.
Add the dry ingredients to the food processor and blitz them down into a fine crumb. Then add in the wet ingredients and blend into a dough consistency. Press the crust down into the base of the cake tin, I like to use a spatula to get it nice and even before transferring it to the freezer.
Step 2: Make the filling
Make sure that your cashews have been pre-soaked to make them creamy and easier on your blender. Simply place the cashews into a bowl with water and allow them to soak for 4 hours. If you're in a hurry you can soak them for about an hour in hot water. Rinse the nuts once soft and they are ready to use!
If you're using canned coconut milk instead of coconut cream, make sure you refrigerate the cans in advance (overnight works well). Chilling the cans will separate the coconut cream from the water. You can then simply scoop out the thick coconut cream from the top of the can. The left-over water in the bottom of the can makes a nice addition to curries, so don't throw it out.
Next, add all of the filling ingredients to your high-speed blender and blend until completely smooth. And I mean, completely smooth! You don't want there to be any lumps in the mixture as this will result in a gritty mouth feel, which nobody wants! Taste test the mixture to make sure, it should be silky smooth before transferring it into the cake tin to freeze and set.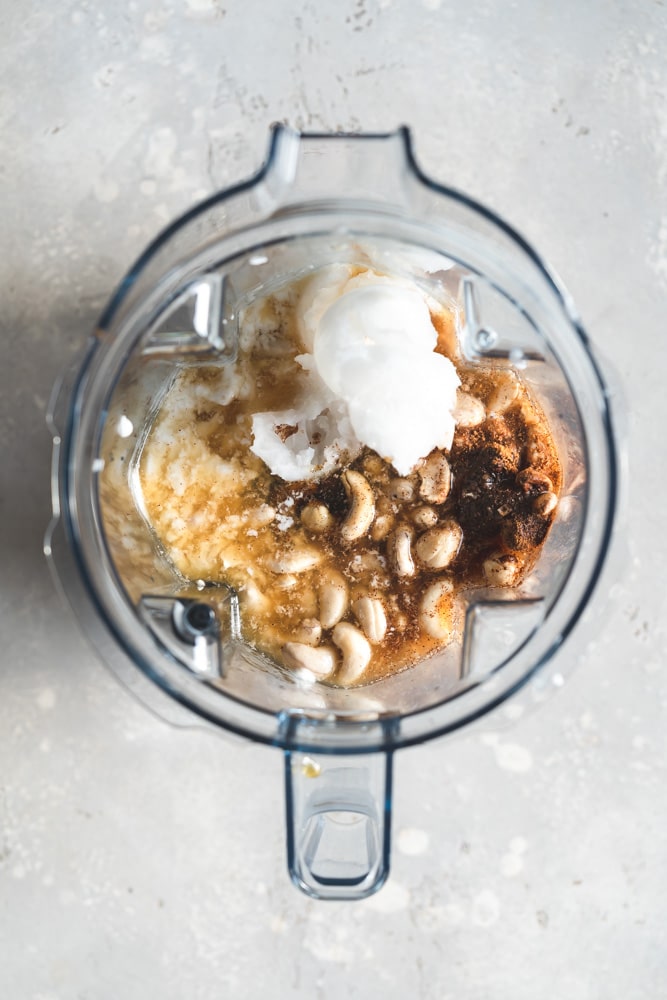 Step 3: Decorate the cheesecake
Feel free to get creative with the toppings and decorate this cake however you like. I love adding festive sprinkles and edible gold glitter spray on the top, if you are using these just make sure they are vegan-friendly. A lot of sprinkles contain beeswax, gelatine, and animal-based colorings.
Piped coconut cream works really nicely around the edges of the cake. I like to use sprigs of fresh rosemary as they remind me of little Christmas trees! Fresh mint with some pomegranate jewels also works well as they resemble fresh holly!

More festive vegan desserts
Love this recipe? Please leave a 5-star ★★★★★ rating in the recipe card below and consider leaving a comment as well, thanks!
Stay in touch with me through social media @ Instagram, Pinterest, TikTok, and Facebook. And if you like one of my recipes, tag me!
Description
A boozy remake of a classic festive drink, with a twist! The creamy "eggnog" cheesecake filling is infused with whiskey, nutmeg, and vanilla. Buttery pecans, cinnamon, and coconut sugar make the delicious base.
Ingredients
Crust
1

cup

(

80

g

) rolled oats,

use GF if required

1

cup

(

100

g

) pecans

¼

cup

(

40

g

) coconut sugar

¼

teaspoon

(

1.25

g

) sea salt ,

or Himalayan pink salt

1

teaspoon

(

5

g

)

ground cinnamon

½

teaspoon

(

2.5

g

)

ground nutmeg

3

tablespoons

(

45

g

)

cashew butter
Filling
1 ½

cup

(

200

g

) cashews,

*soaked, see notes

1 ½

cups

(

360

g

)

coconut cream

,

*or coconut milk, see notes

½

cup

(

40

g

)

coconut yogurt

,

or other plant-based yogurt

½

cup

(

118

ml

) pure maple syrup

4

tablespoons

(

60

g

)

coconut oil

,

solid

⅓

cup

(

78.86

ml

)

whiskey

,

or brandy

1

teaspoon

(

5

g

)

vanilla bean paste

½

teaspoon

(

2.5

g

)

ground nutmeg

½

teaspoon

(

2.5

g

)

ground cinnamon

1

teaspoon

(

5

ml

)

lemon juice

1

teaspoon

(

5

ml

)

orange extract

Pinch

sea salt or pink salt
Instructions
To make the crust, add the oats, pecans, ginger, coconut sugar, salt, cinnamon, and nutmeg to your food processor and blitz to a fine crumb consistency. Add the cashew butter and blend again until the mixture sticks together to form a dough consistency.

Line the base of a 7" springform cake pan with parchment paper and press the dough into the base of the pan, compacting it with a spatula. Set aside.

For the filling, add all of the ingredients to your high-speed blender. Blend on high for a few minutes until the mixture is completely smooth and creamy, with no lumps or grit.

Place the cake in the freezer to set for a minimum of 6 hours or overnight. Once set, remove the cake from the tin whilst still frozen.
Storage
This cake can be stored in the fridge in an airtight container for up to 5 days. Alternatively, freeze any unused cake and defrost as needed.
Notes
Soaked cashews: Soak the cashews in water for 4 hours, rinse and drain.
Chilled coconut milk: Refrigerate the tin of coconut milk overnight, then only use the thick cream from the top of the can. 1 x 400ml can generally yield up to one cup of coconut cream, depending on the brand.
Nutrition
Calories:
489
kcal
|
Carbohydrates:
29
g
|
Protein:
7
g
|
Fat:
38
g
|
Saturated Fat:
22
g
|
Polyunsaturated Fat:
4
g
|
Monounsaturated Fat:
9
g
|
Sodium:
62
mg
|
Potassium:
320
mg
|
Fiber:
3
g
|
Sugar:
13
g
|
Vitamin A:
6
IU
|
Vitamin C:
1
mg
|
Calcium:
54
mg
|
Iron:
3
mg
© addictedtodates.com. All content and images are protected by copyright. If you want to share this recipe, please do so using the share buttons provided. Do not screenshot or republish the recipe or content in full. instead, include a link to this post for the recipe.